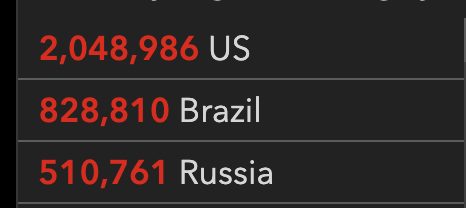 A popular country called Brazil has become the next country on the world map to become the second country that hits one million on covid-19 cases in the world.
The cases of Brazil being the second county to hit Million on covid-19 was announced on twitter handle by Peter Merlin Cane.
However, Peter Merlin list the most countries with highest cases of the deadly disease called covid-19 in his twitter handle.
The five countries with the most COVID-19 cases are all run by mentally-challenged right-wing populists:
USA (Trump) 2,280,808.
Brazil (Bolsonaro) 1,009,699
Russia (Putin) 569,063
India (Modi) 395,812
UK (Johnson) 301,815